2100.09: Assistant Superintendent for Leadership, Planning and Evaluation
2100.09: Assistant Superintendent for Leadership, Planning and Evaluation
holly
Wed, 06/26/2019 - 16:18
Title: Assistant Superintendent for Leadership, Planning, and Evaluation

Reports to: Superintendent

General Summary: The Assistant Superintendent for Leadership, Planning, and Evaluation is responsible for the successful leadership and management of the District according to the vision and direction set by the Superintendent and District Strategic Plan. 

Essential Functions:

I. Develops, coordinates, and implements the District plan for site-based planning. (15%)

II. Directs the continuous improvement process for the District including NE Framework Accreditation and serves as internal facilitator for the District strategic planning process. (5%)

III. Organizes, implements and supervises administrator professional development and the District leadership programs (e.g. Leadership Academy, Principal Institute, Superintendent Internships) (5%)

IV. Directs the development and implementation of all District policies and supports the Board of Education as requested by the Superintendent. (5%)

V. Supervises the Director of Staff Development & Instructional Improvement, the Executive Director of Assessment, Research and Evaluation, and assigned principals. (10%)

VI. Coordinates the audit processes and manages the NDE Portal (1%) 

VII. Attends all School Board, Executive Committee and Cabinet Meetings and prepares such reports for the Board as the Superintendent may request. (5%) 

VIII. Develops school calendar and coordinates high school graduation. (1%)

IX. Directs the District CADRE Program. (3%)

X. Coordinates the Superintendent's Business, Parent & Service Advisory Committees and directs other special projects as assigned. (5%)

XI. Directs the administrator evaluation program, coordinates the principal supervisor process, and supervises the administration of the teacher evaluation program. (7%)

XII. Directs and facilitates the administrator induction program and supervises the administration of staff development of certificated and classified staff and new staff induction. (7%)

XIII. Supports and assists in measuring the positive climate and engagement within the District and community. (5%) 

XIV. Serves as the project manager for internal operations of the District as directed by the Superintendent. (20%)

XV. Serves as the internal project manager for District bond issues and levy overrides. (3%)

XVI. Performs other duties as assigned by the Superintendent. (5%)

Qualifications:

I. Education Level: A doctoral degree from an approved institution with a major in educational administration or the accepted equivalent is preferred. A six-year specialist degree in educational administration or the accepted equivalent is required. 

II. Certification or Licensure: Appropriate NE Administrative Certification required.

III. Experience desired: Five years of successful administrative experience in the area of instructional improvement, staff development, and staff evaluation is preferred; three years experience is required. Previous supervisory experience is required.

IV. Other requirements: Ability to work with individuals and groups in the development and implementation of district staff development; instructional improvement program development; implementation of site-based planning programs; and ability to compile and prepare reports.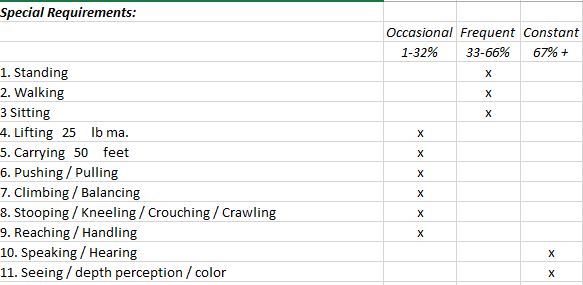 The statements herein are intended to describe the general nature and level of work being performed by employees assigned to this classification. They are not intended to be construed as an exhaustive list of all responsibilities, duties, and skills required of personnel so classified. 

Responsibilities and duties assigned are at the discretion of the immediate supervisor (and/or superintendent).


Employee Signature: ______________________________Date: _________________




Supervisor Signature:  _____________________________Date: _________________
Date of Adoption
May 4, 1998
Date of Revision
September 21, 1998
February 21, 2000
April 19, 2004
September 4, 2007
October 20, 2008
September 6, 2011
April 21, 2014
August 1, 2016
July 8, 2019