2100.12: Executive Director of Assessment, Research & Evaluation
2100.12: Executive Director of Assessment, Research & Evaluation
holly
Mon, 07/01/2019 - 10:56
Reports to: Assistant Superintendent for Leadership, Planning & Evaluation

General Summary: Directs the assessment, research, and evaluation for the District to facilitate improvement in the educational programs and services of the District.

Essential Functions:

I. Coordinates the development, implementation and review of district-wide assessments and data analysis for norm-referenced and criterion-referenced assessment, district and state assessments, and measures of national and international academic achievement. (20%)

II. Coordinates district evaluation activities (e.g., strategic and site planning, school recognition programs, curriculum and instruction programs) as assigned by the Superintendent. (5%)

III. Evaluates district programs to determine effectiveness and provides summary reports on district evaluation activities to the Millard Board of Education as directed by the Superintendent. (5%)

IV. Provides advice and technical assistance in research design and program evaluation, and reports data and provides statistical analysis and recommendations. (10%)

V. Conducts assessments and surveys based on district-identified needs. (5%)

VI. Develops and implements ongoing staff development and in-services to train staff and administrators on assessments and data analysis. (5%)

VII. Receives, evaluates, and approves all proposals to conduct research in the Millard Public Schools as submitted by staff or outside organizations, agencies, or individuals. Proposals will be referred to appropriate parties for review and recommendation. (5%)

VIII. Maintains and provides student data, provides appropriate feedback to administrators and staff, and submits reports to the federal and state government, and other agencies. (10%)

IX. Attends all School Board and Cabinet meetings. (5%)

X. Oversees the District Student Information System (SIS). (20%)

XI. Collaborates with various departments on projects or initiatives and advises on the appropriateness relative to data governance, integrity of data, and overall best practice within the use of data. (5%)

XII. Performs other duties as assigned by the Superintendent. (5%)
Qualifications:

I. Education Level: A doctoral degree from an approved institution with a major in educational administration, educational psychology, or the accepted equivalent is preferred.

II. Certification or Licensure: Nebraska Administrative Certification preferred but not required.

III. Experience desired: Five years of successful experience in administration with experience in planning, research and evaluation is preferred. Three years of experience is required.

IV. Other requirements: Leadership skills in the following areas: planning, research, assessment, and evaluation; ability to work with other administrators and ability to assess the needs of the district.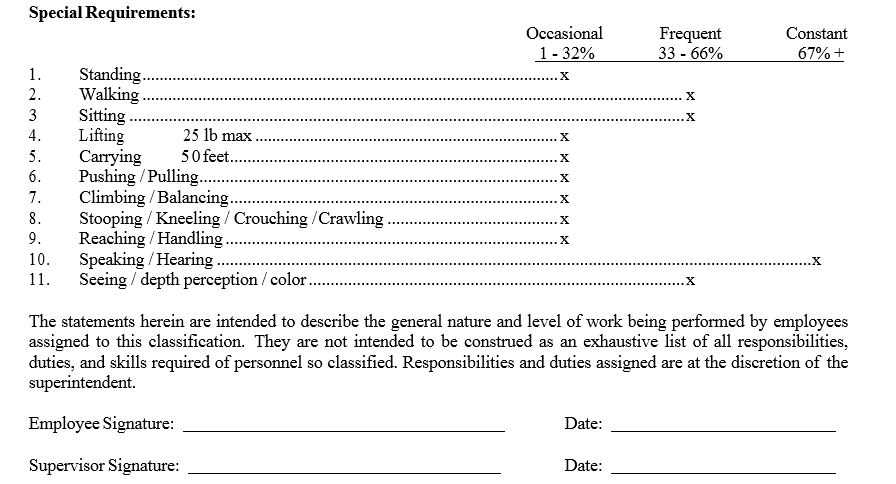 Date of Adoption
June 27, 1989
Date of Revision
July 21, 1997
September 21, 1998
September 13, 1999
April 19, 2004
September 4, 2007
September 15, 2008
March 1, 2010
September 6, 2011
August 1, 2016
July 12, 2021