2100.28: Director of Staff Development and Instructional Improvement
2100.28: Director of Staff Development and Instructional Improvement
holly
Mon, 07/01/2019 - 11:55
Reports to: Executive Director of Leadership and Strategic Planning
General Summary: The Director of Staff Development and Instructional Improvement supports the educational programs and services of the District by ensuring that the teacher evaluation program is monitored and fully implemented and that professional development and continual learning opportunities are planned, delivered and utilized for all staff members.  
Essential Functions:
Organizes, communicates, implements and evaluates the instructional improvement of certificated staff.  (20%)

Directs the certificated staff evaluation program and supports the Human Resource Department with instructional support for Intensive Assistance plans.  (15%)

Supports all District departments to ensure that the staff development of certificated and classified staff are determined to adequately support the Millard Education Program, Strategic Plan federal and state mandates, and job training needs.  (15%)

Directs the new certificated staff induction program.  (10%)

Assists principals, teachers and District-level personnel in the planning, developing and implementing of staff development activities.  (10%)

Supervises and evaluates the work of principals and other staff as assigned by the Superintendent. (5%)

Develops and administers budgets to support the comprehensive staff development plan.  (4%)

Identifies needs for credit courses and works with administrators of colleges and universities and E.S.U. to provide college credit courses and programs within the District.  (1%)

Serves as a liaison between the District and other local, state and national educational agencies in the development, coordination and implementation of programs for staff development.  (2%)

Conducts workshops, seminars and conferences on appropriate topics for all staff members.  (8%)

Performs such other tasks and assumes such other responsibilities as the Executive Director of Leadership and Strategic Planning may assign.  (5%)

Attends all board of education and Superintendent cabinet meetings. (4%)

Other duties as assigned by the Superintendent. (1%)
Qualifications:
Education Level: A doctoral degree from an approved institution with a major in educational administration or the accepted equivalent is preferred.  A six-year specialist degree is educational administration or the accepted equivalent is required.

Certification or Licensure: Appropriate Nebraska Administrative Certification required.

Experience desired:  Five years of successful administrative experience in the area of instructional improvement, staff development, and staff evaluation is preferred; three years experience is required.  Previous supervisory experience is required.

Other requirements:  Ability to work with individuals and groups in the development and implementation of a district staff development and instructional improvement program; ability to compile and prepare reports.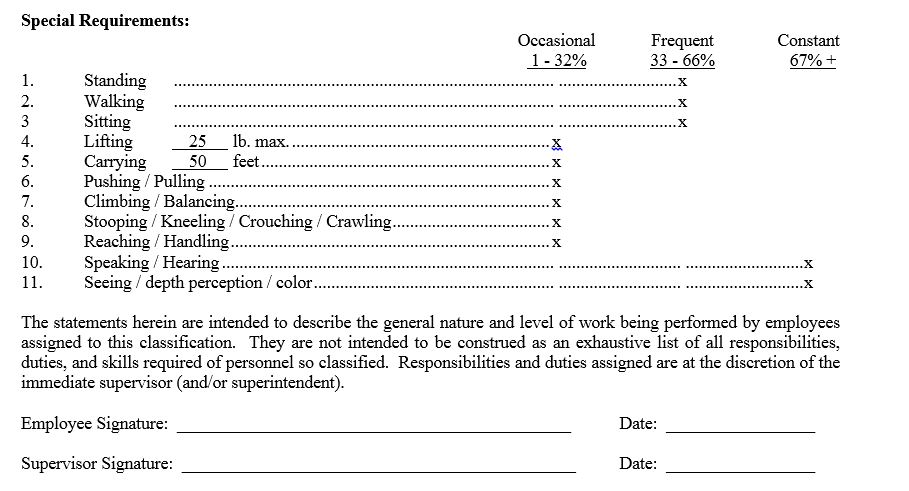 Date of Adoption
May 4, 1998
Date of Revision
September 21, 1998
February 21, 2000
April 19, 2004
September 4, 2007
October 20, 2008
September 6, 2011
May 5, 2014
August 1, 2016