2100.37: Coordinator of Secondary Programs
2100.37: Coordinator of Secondary Programs
holly
Mon, 07/01/2019 - 13:26
Reports to: Director of Secondary Education

General Summary: Provides coordination of all activities between secondary schools, the District, post-secondary institutions, community organizations, and businesses related to dual enrollment, career and technical education, academic programs and transitions.

Essential Functions:

Works with district administrators and workforce development stakeholders to establish new and innovative programs which emulate employment trends; monitor existing programs; works with school principals to determine program offerings; recommends courses for addition to or elimination from curriculum; coordinates communications of secondary programs to students and public; coordinates with state and local educational agencies to ensure continuity and relevance of programs, and assists in evaluation of program effectiveness. (25%)

Works with industry representatives, advisory members, and district personnel (teachers, Curriculum and Instruction MEP Facilitators, principals and directors) to develop curriculum and select instructional materials, supplies, and equipment; coordinates with principals and district administrators to establish and maintain program-appropriate instructional facilities. (15%)

Develops, coordinates and maintains articulation agreements with labor and post-secondary institutions; coordinates district participation in dual enrollment programs; assists school principals and district administrators with personnel needs for dual enrollment programs. (10%)

Coordinates district support of Career and Technical Education teaching staff including professional development to effect changes and improvements in the delivery of instruction; assures that all CTE classes maintain a dual focus on both academic and technical skill development; visits schools regularly to review programs, share ideas, and provide feedback to improve teaching methods, assists school principals and district administrators with personnel needs for CTE programs. (10%)

Facilitates local, state and federal grants related to secondary programs; assures that all expenditures follow district, state, and federal compliance guidelines; coordinates the post-graduate reports and exiting senior survey and reports; interprets data to make program decisions. (10%)

Collaborates with the Directors of Student Services, the Office of Secondary Education, and the Office of Special Education related to alternative educational programs; assists with the development and implementation of program procedures, including but not limited to Horizon High School and programs for suspended, expelled, and Restart students. (10%)

Coordinates middle and high school procedures related to individual student Personal Learning Plans in collaboration 

with building administrators and the Curriculum & Instruction MEP Facilitator responsible for secondary counselors, including but not limited to the development of the four year plan, ACT preparation, College and Career Readiness, and transitions. (10%)

Establishes and maintains strong and effective working relationships with professional organizations. (5%)

Assumes other duties as assigned. (5%)
Qualifications:
Education Level: Master's degree from an approved institution with a major in educational administration or the accepted equivalent (preferred). Course work or experience in alternative and/or career and technical education (required).


 

Certification or Licensure: Appropriate Nebraska teaching certificate (required) or administrative certificate (preferred).


 

Experience desired: Facilitation experience and/or administrative experience in curriculum, instruction and assessment related areas. Data analysis and program evaluation experience.


 

Other requirements: Skilled in the use of standard office applications of technology, able to maintain and apply approved budgets to identified programs, highly organized, ability to work harmoniously with others, task and goal oriented. Valid driver's license.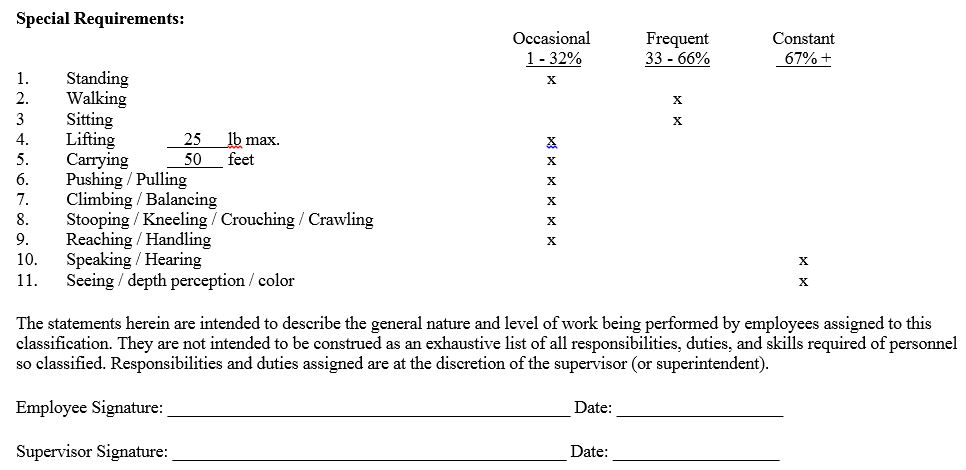 Date of Adoption
January 21, 2008
Date of Revision
September 15, 2008
August 1, 2016