A Message From Dr. Jim Sutfin
Welcome to Millard! We have a great story, and I do my best to tell it every day. Follow me on Twitter @jsutfin and you are guaranteed to never miss a snow day. I have a lot of fun with my tweets and also share information you will want to know.
I'm proud of the 3,000 people who chose to work here. We have amazing teachers and staff who engage students with a lot of creativity. We all share the same goal – to make sure your child is college and career ready by graduation, and has the time of their life along the way. These are my schools, too. I grew up and graduated from Millard, returned here to teach science and spent time as a principal and a district administrator. Since 2014 I have served as superintendent. My wife is also a career educator here and our children graduated from our schools. We believe in Millard, and we think once you get to know us, you will too.
Best regards,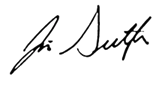 Jim Sutfin, Ed.D.
Superintendent
jsutfin@mpsomaha.org