Reports to: Director of Elementary Education

General Summary: Coordinates Educational Services special programs, including but not limited to, the Core Knowledge Program, Montessori Program, International Baccalaureate Programmes, English Language Learner Program, RtI+I plans for students who have not yet met district assessment performance standards and/or are in intervention, and K-12 summer school. 

Essential Functions:

Coordinates and facilitates communication about the Core Knowledge Program, International Baccalaureate, and the Montessori Program with the District and to the community. (5%)

Assists the Montessori, Core Knowledge, and International Baccalaureate leadership teams by providing instructional and training support for the programs so that they can effectively supervise staff and maintain program integrity. (10%)

Coordinates the development, and monitors the implementation of, the RtI+I plans and budgets within Building Learning Plans developed for the purpose of reteaching and intervention for students who have not yet met the district assessment performance standards. (3%)

Coordinates the implementation, maintenance, and reporting of the Rule 4 textbook loan program. (3%)

Coordinates, implements, and oversees the organization, communication of and hiring for elementary, middle, and high school summer school. Generates reports as needed. (27%)

Facilitates communication between buildings and/or levels for the International Baccalaureate Programmes, Montessori, and Core Knowledge. (4%)

Assists building leadership teams with the Mini-Magnet development and implementation procedures as outlined in policy 10,001.1. (5%)

Coordinates program activities as required by NDE Rule 15 and described in Title III for English Language Learners and ensuring effectiveness, continuity, and relevance of the programs for students. (10%)

Assists in communicating with parents regarding evaluation, programming, placement, services and rights of English language learners. (5%)

Assists in the coordination of transportation as articulated in the Limited English Proficiency and Poverty Plans. (3%)

Conducts research related to instructional improvement and increased achievement outcomes for English Language Learners and students of poverty; interprets data to make program decisions; assists building data teams. (5%)

Coordinates program development consistent with the established budget; sets priorities for materials, supplies, and equipment acquisition; assures that all expenditures follow district, state, and federal compliance guidelines. (10%)

Assists with the recruitment, selection, assignment and evaluation of teaching staff and related personnel to support parent choice programs and programs for special populations. (7%)

Assumes other special programs and projects as assigned. (3%)

Qualifications:

1. Education Level: Master's degree from an approved institution with a major in educational administration or the accepted equivalent. 

2. Certification or Licensure: Appropriate Nebraska administrative certificate. 

3. Experience desired: Facilitation experience and/or administrative experience in curriculum, instruction and assessment related areas.

4. Other requirements: Skilled in the use of standard office applications of technology, able to maintain and apply approved budgets to identified programs, highly organized, ability to work harmoniously with others, task and goal oriented. Valid driver's license.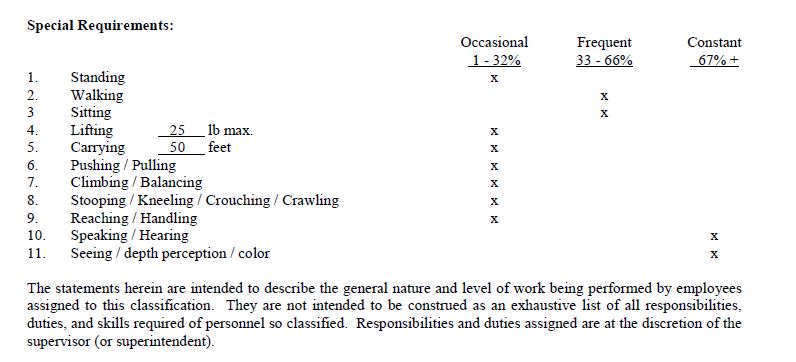 Date of Adoption
July 12, 1999
Date of Revision
March 7, 2005
September 4, 2007
January 21, 2008
September 15, 2008
July 12, 2010
August 1, 2016
Legal Reference
(Effective May 21, 2008: 2100.36 was deleted and included in this rule)