Reports to: Principal's designated Central Office performance evaluator 

General Summary: Serves as the educational leader of the school. Responsible for the educational programs and services in the school. Responsible for implementing district programs, policies, and procedures.

Essential Functions:  
Instructional Leadership and Vision for Learning

I. The principal: 

A. Assumes responsibility for the continuous school improvement plan and process. 

B. Provides for effective instructional leadership, including monitoring student performance relative to assessments, and ensuring that the written curriculum is the taught, assessed curriculum. 

C. Assumes leadership responsibilities for effective selection, induction, and continual staff development and improvement of all personnel. 

D. Directs the development of instructional leadership capacity among teachers and teams. 

E. Provides for effective evaluation and supervision of all personnel. 

F. Provides visible leadership ensuring a positive educational culture that enhances the academic, social, physical, and emotional development of all students. 

G. Communicates the school vision in order to establish high expectations for student and staff performance. 

H. Assists staff to analyze varied sources of information and multiple sources of data to make educational improvement decisions. 

II. School Management The principal: 

A. Budgets time to achieve balance between administrative and supervisory duties. 

B. Identifies needed changes and improvement in school plant and effectively capitalizes on District resources, procedures and personnel. 

C. Provides sound fiscal management of building resources and programs. 

D. Utilizes effective practices and teaches clear guidelines for appropriate student behavior to provide a safe school environment. 

E. Demonstrates effective skills in conflict resolution, problem analysis, decision-making, and judgment. 

F. Demonstrates effective written, oral and nonverbal communication and facilitation skills. 

G. Directs the planning, implementation, and evaluation of programming related to student activities, clubs, and athletics. 

III. Interpersonal Relationships The principal: 

A. Demonstrates positive interpersonal relations with students, staff, families and community. 

B. Promotes, assesses, and nurtures a positive interpersonal climate in the school building. 

C. Creates strategic partnerships with community leaders in order to carry out the school/District mission. 

IV. Professional Responsibilities The principal: 

A. Implements and communicates District programs, policies, and procedures. 

B. Engages in personalized learning and school/District professional growth activities.

C. Holds high expectations for self and others as evidenced by modeling positive work habits and behaviors. 

D. Assumes responsibilities outside the school as related to school matters. 

E. Models and expects staff to exhibit transparent and ethical behavior. 

Qualifications: 

1. Education Level: Preferred: Doctoral degree from an approved institution with a major in educational administration or the accepted equivalent. Required: Master's degree from an approved institution with a major in educational administration or the accepted equivalent. 

2. Certification or Licensure: Appropriate Nebraska Administrative Certificate. 

3. Experience desired: Preferred: Three years of successful experience in administration as building principal. Required: Two years of successful experience in a leadership role, and four years of teaching experience. 

4. Other requirements: Experience, maturity and leadership abilities in appropriate facets of school administration - sensitivity to the needs and objectives of the student, school and district; the ability to supervise, evaluate, and manage the work of others; leadership skills in the area of curriculum development, management and evaluation.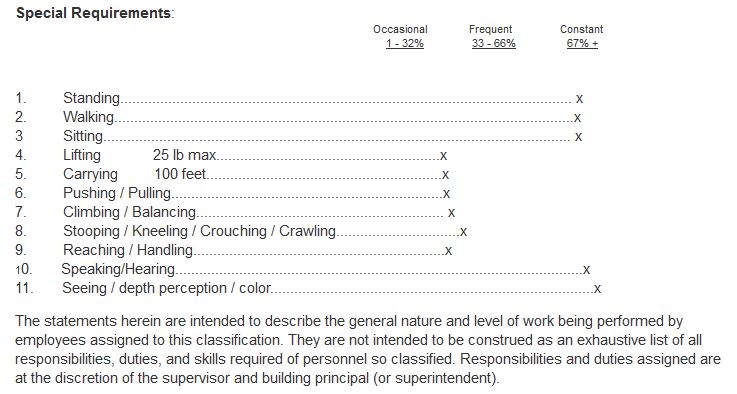 Date of Revision
August 20, 1990
September 21, 1998
November 1, 2004
January 21, 2008
September 15, 2008
October 3, 2016